Enlighten is a mixed reality concept which redesigns the way in which students interact with museum spaces
.

Students are guided throughout the museum via a mixed reality headset, completing various activities and challenges with friends. They are also able to interact and learn through the museum via headset, enhancing their overall learning experience in the museum.
TEAM: SELENA UNG/DANIEL LEE/HAN YI PENG/TONY HWANG
For a museum, zoo or aquarium in Sydney design a digital/tangible/spatial experience that builds upon the collection that the institution offers. It should improve the visitor experience, fulfil educational goals of the institution, and help the institution to engage with new audiences (or affirm their relationship with existing ones). The experience should be interwoven with the context; it could not exist without the collection and environment of the institution. This experience is as broad or as narrow as you decide: it could begin at the door, or focus specifically on a particular zone or part of the collection; as long as it has digital, tangible and spatial aspects.
Choosing our Experience Topic
The first step of our project was to select what experience we wanted to improve which could either be a museum, zoo or aquarium in Sydney. After looking into each of the topics and discussing which topic each of us were personally interested in we decided that we would focus on museums, particularly as we felt that museums are typically seen as 'boring' and had a lot of potential to be improved with emerging technologies.
Next we had to select a specific museum that we felt had potential to be improved. After conducting research we initially wanted to choose Madame Tussards in Darling Harbour however we realised that this museum may not fit into the design requirements. Due to this, we decided to go with the Powerhouse Museum as we felt that it was an interesting museum that had potential to be improved to make it more interactive with audiences.
The second step was to choose our target audience in which we would tailor our research towards and provide and effective solution for. After juggling between various audiences we decided to choose university students as our target as we felt that we could empathise with them and felt that university students were an audience that are often looked past in museum experiences.
To choose an existing museum and change the experience that visitors have, these include: having a better experience, fulfilling educational goals, clearer way-finding or more interactions with audiences/visitors.
Through this research, we hope to learn and gain a better understanding of the various different methods we will using to obtain our data.
What is the main problem that user's face in their experience at a museum?
What are the main elements needed in creating the museum's new experience?
Are there any positive aspects in a user's experience of visiting a museum?
Direct Experience Storyboard
The direct experience storyboard is a method where we, the group, will go to our selected museum and gain insight/experience that it currently has. While experiencing the trip there, we will be taking pictures and snaps of the area. Apart from experiencing what the museum has to offer, we will also be 'shadowing' other visitors to see how they interact with the various activities the museum offers. In 'shadowing' the visitors, we will be able to gain a better understanding of their activities and tasks in the museum, it will also suggest times and locations for observing interesting patterns. (McQuaid, Goel, McManus, 2003, p. 121).
With the images that were taken at the museum, a storyboard will be made. This storyboard will be a direct experience storyboard and will show the current experience that visitors are having at the museum. 
The method of making a direct experience storyboard is an effective process as it will allow us to gain more insight into what the current experience in the museum is like. With this knowledge in mind, we will be able to have a better understanding of what needs to be changed and what the current struggles visitors are experiencing in the museum. The making of the direct experience storyboard will also be a good framework for analysing and communicating the necessary information during the research stage. (McQuaid, et al., 2003, p. 122).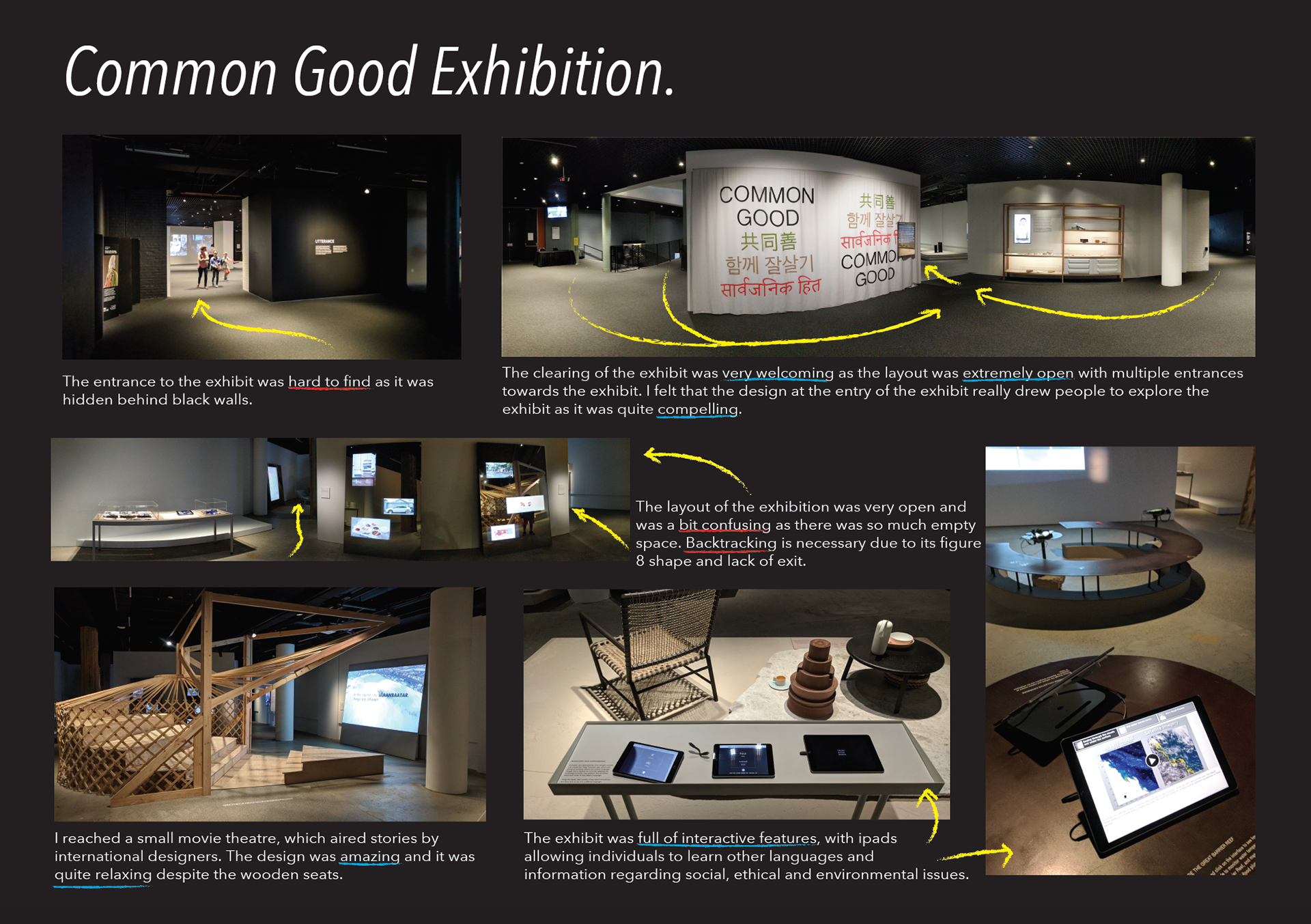 The method of using a sensitising booklet will be used in this research. A sensitising booklet is a booklet that we give a week prior to a generative session that will be held with our participants. The booklet will have daily tasks that require the participants to complete respectively. The topic of the tasks that we will be having will be related to the participant's holiday experience. This experience will be based on their most recent holiday experience. The reason for this topic is because the sensitising booklet should prepare the participants for the generative session. 
However, the topic for the sensitising booklet should not be directly similar as the topic in the generative session. Thus, an experience during a recent holiday is as close and far from an experience at a museum as possible.
The main reason for doing the method of a sensitising booklet is because it will allow the participants to feel free and relaxed, which will also allow for them to pay full attention. Sanders and William (2001, as cited by Visser, Stappers, Lugt, 2005) stated that "The sensitising process enhances the quality and quantity of contributions that participants make in the generative sessions". This statement is the main reason we will be giving our sensitising booklets a week prior to our generative session.
A generative session is where the participants for our research will all gather in one room and complete three different activities and discuss among each other about themselves and their experiences in a museum. The purpose of running a generative session is because it is good for collecting multiple viewpoints from users. (Visser, et al., 2005, p. 27). Other advantages of running a generative session according to Visser, et al. (2005) include "highlighted areas of consensus and conflict, encouraging contact between developer and user, and providing access to latent knowledge (which is unconscious knowledge that is felt by an individual)". (p. 27).
By splitting the chosen participants into two groups, two generative sessions will be held at different times. Doing this will be more efficient and participants will be more open to speak without feeling embarrassed. Another reason is because doing only a single session is dangerous, especially if something went wrong, no data would be collected. (Visser, et al., 2005, p. 31). Each of the sessions will run for 2 hours each. The session will also be recorded so that the discussions occurred can be referred back to in order to obtain/analyse data. 
For the data analysis, we will be using the bottom-up method, specifically the affinity diagramming with statements cards method. This method will begin with us individually listing and titling interesting quotes that will have happened in the generative session. Afterwards, we will gather as a group and attempt to link and find similar interpretations that we had. As we group our similar interpretations, we will also be keeping a lookout for patterns that occur within out data. Layers will also be made with the groups, included with colour codes so we will easily identify whose cards are whose.
The reason for the use of the bottom-up method in the data analysis is because it sets up for a way to get as much information as possible. The use of using statement cards in the affinity diagramming is much more effective than regular affinity diagramming. This is because this specific method consists of both aspects of individual and group analysis. With these two mode of analysing, the result that we will conclude with will not be biased. 
Redefining the Design Brief
The Powerhouse Museum based in Sydney is known for its excellence and innovation within the applied arts and science field, catering to audiences of all ages. Our main goal for this research is to improve and enhance the overall museum experience of users aged between 18-24, while also reaffirming and improving their relationship with the Powerhouse Museum. Specifically, we intend to improve and fulfill the educational goals of the institution towards students, interweaving various aspects such as interactions, expectations and spaces to enhance their experience of the museum.
For us to achieve this goal, we want to think of possibilities for the users to successfully immerse themselves within the confines of a new museum environment. Possibilities including but not limited to users being able to interact with unique learning tools, to communicate and share findings/insights with other like-minded individuals, and to educate themselves within a space in the museum.
As the Powerhouse Museum is within walking distance from the University of Technology, students aged between 18-24 will be the main focus of our research design. Based on our research insights from Assessment 1, it revealed that there was an inherent lack of interest between students and museums. This lack of interest that students have on museums is not baseless, but due to multiple features that museums themselves lacks. These lack of features include social interaction with other individuals, the engagement with students personally, and an educational interaction within the museum.
After researching various emerging technologies we decided that we wanted to utilise mixed reality in our design concept as we felt it was an innovative technology that would assist and improve the overall museum experience for students.
Following our research stage and redefining of our design brief, the next step was to generate two design concepts which addressed the issues that were discovered. 
Concept 1:

Concept 1 addresses the inherent issue of a lack of interest and social interaction within the museum, specifically for students aged from 18 to 24. The game is inspired by 'The Amazing Race' which is a TV show from popular culture which has been used specifically to draw students interest. Concept 1 specifically addresses social needs such as interaction with other students but also explores effective teamwork which was highlighted as a key factor in students perception of museums. Research insights also found a lack of effective teaching techniques within a museum and resulted in a lack of interest from students due to this. Concept 1 responds to the brief by using technology to create an immersive game which utilises effective teamwork and allows students to learn in a unique and interesting way.
Concept 2:

Similarly to Concept 1, Concept 2 addresses social interaction and a lack of interest within the museum environment but specifically to particular exhibitions. The idea for concept 2 was drawn from research insights which emphasised the difficulties for students to draw personal connections with the museum. The basis of the game is derived from popular culture TV Show 'Who Wants to be a Millionaire' which hopefully allows students to personally connect with the museum. We have also decided to focus on improving space within exhibitions and creating new immersive tools for students to interact with. Concept 2 responds to this through an immersive game which allows students to interact with other students and learn interactively, while using the exhibition space effectively.​​​​​​​
For our final concept we decided to go with Concept 1 as we received more positive feedback regarding this concept.
Our final concept is a mixed reality concept, targeting students aged from 18-24 by redesigning and enhancing various interactive and social aspects. Students are guided throughout the museum via a mixed reality headset, completing various activities and challenges with friends. They are also able to interact and learn through the museum via headset, enhancing their overall learning experience in the museum.